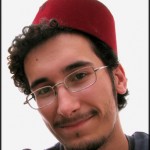 Hi there! I'm Chad, a game designer from Melbourne, Australia. I make experimental games, and craft unique and memorable experiences that make people smile : )
I co-direct and curate Hovergarden, Melbourne's monthly gathering and celebration of local multiplayer indie games.
I'm currently undertaking a PhD, looking at local multiplayer games and the New Arcade Movement. My research currently takes place within the School of Media and Communication at RMIT University.
In my free time I find myself indulging in rapid game development (usually in the form of game jams), and playing physical games and card games. Sour worm lollies are amazing by the way.